IQF Chopped Sea Clams
&

Clam Juice Concentrate Ideations
‎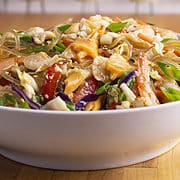 Click on the link to the right for the recipe ideations for our IQF Chopped Sea Clams & Clam Juice Concentrate.
The options with clams can leave your menu healthy, versatile, and profitable.
I.Q.F. Chopped Clam Meat are surf clams, including the tender tongue – chopped and individually quick-frozen…an easy alternative to block frozen, canned or fresh clams. I.Q.F. Chopped Clam Meat delivers all the clam meat to the chef or production manager when they need it – without defrosting or opening cans – and with the fresh, full flavor of the surf clam in each I.Q.F. bite!
One ingredient: Sea Clams
Fresh, full flavor sealed in every bite!
Available year round- ready to use when you need them!
Provides no mess, no waste!
I.Q.F. Chopped Clam Meat includes the whole clam with the tender clam tongue chopped to a 1/2" size— ready to use in chowders, sauces or in any other special recipe
Can be added directly into your recipe…no thawing time required!
Our Clam Juice Concentrate is made from fresh clam juice with no artificial additives. The fresh raw juice is collected daily and is standardized to 40 brix (40% total soluble solids) to ensure consistent flavor from batch to batch. Utilizing a concentrate allows formulators to vary the strength of clam flavor from recipe to recipe. 45 pounds of clam juice concentrate has the equivalent flavor of 600 pounds of single strength clam juice. Sea Watch has developed a new process generating a more consistent brix and sodium, lighter in color, and better pourability.
Don't forget our clams are also certified sustainable by MSC (the Marine Stewardship Council).
Product Codes
IQF Chopped Sea Clams 9831: 2/5 lb.
Clam Juice Concentrate: 030908: 5 gallon pail, 030889 8/16oz.