Super Clam Strips Ideations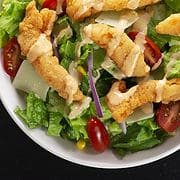 ‎
Click on the link to the right for the recipe ideations for our Super Clam Strips.
These ideations will give you some different ways you can serve / menu these incredibly tasty clam strips.
Sea Watch Breaded Super Clam Strips are made from only the finest clams, Atlantic Surf Clams (sea clams). We shuck our clams fresh off our
refrigerated boats and apply our new proprietary tenderizing process to give you premium sized clam strips with a tender bite. Super Clam Strips are made with our fresh breaded process, which allows you to cook the clam for the very first time! The clams are then sliced to a thickness 5 times thicker than a standard clam strip. These delicious Super Clam Strips will "wow" your customers! Sea Clams have been under federal management since 1977 and are considered by many to be one of the best-managed fisheries in the world.
Have a sweet clam taste, no clam bellies
Appealing flavor and appearance
Provide an upscale, hand-breaded appearance
Versatile to create a "signature" dish
Sustainable
Product Codes
Sea Watch BO131 – 2/5 lb.