Seafood Stuffing Empanada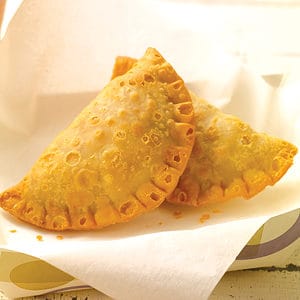 Sea Watch Seafood Stuffing empanadas are a perfect sharable for parties or a great snack.
Instructions
Lay out empanada skins on a work space and place 1 thawed Sea Watch Seafood Stuffing Bites in the middle of each skin. In a small mixing bowl, mix cilantro and red onion together. Place a small amount of the cilantro and red onion mixture next to each stuffing bite. Fold the empanada skin over the filling and press together with a fork to seal. Gently place the empanada in a deep fryer with 350-degree oil.  Fry for 2-4 minutes until golden brown. Remove empanadas from oil and drain on a paper towel. Serve hot with your favorite dipping sauce.
Ingredients
12                  Sea Watch Seafood Stuffing Bites, thawed
12                  Empanada skins
3/4 Cup        Red onion, diced
4 Tbps.         Cilantro, chopped
Product Codes
Sea Watch: INS31 (2/5 lb.)