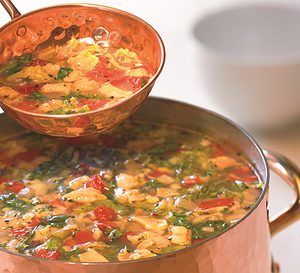 We like to call this soup a Mediterranean diet in a bowl: olive oil, tomatoes, onions, olives, escarole and Sea Watch Chopped sea clams. It doesn't get much better than this!
Instructions
In a large soup pot, sauté the onions and garlic in the olive oil; add the juice from the clams along with all remaining ingredients except for the clams. Bring the soup to a simmer and cook for 20 minutes. Add clams and cook for another 20 minutes. Serve with hard crusty bread.
Yield:  10 Cups
Ingredients
51 oz        Sea Watch Chopped Sea Clams
2 Cups     Tomatoes, diced
1 Cup       Onion
½ Cup     Olives, chopped
1 Tbsp     Olive Oil
2 Tbsp     Garlic, minced
1 Tbsp     Dry Italian Spices
¼ Tsp      Crushed Red Pepper
2 Cups     Escarole, chopped
Product Codes
Sea Watch: 0S31 – 6/51 oz.
Sea Watch: 01S31 – 12/51 oz.
Sea Watch: 01G31 – 12/51 oz.
Capt Fred: 01S47 – 12/51 oz.